Lillingtons open their Riot Fest Brunch set at the Beat Kitchen with Murder on My Mind on 9/15/13.
#inthepit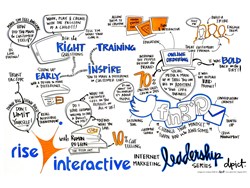 Chicago (PRWEB) November 26, 2013
Ramon De Leon, social media visionary and international speaker, chooses Rise Interactive to begin the next chapter of his noteworthy career.
De Leon, internationally known as #RamonWOW, started his career in 1986 as a pizza delivery driver at Domino's Pizza in Chicago. Twenty-seven years later, he ended his tenure with a $ 7 million dollar per year franchise business and a 50% increase in sales since he took over the marketing message in 2000. However, De Leon's true talent is demonstrated by his unique ability to leverage social media for his business since before the term existed. He pioneered online ordering and took web sales from non-existent in 1997 to nearly 70% of orders in 2013. De Leon's fanatical focus on the customer experience and journey has been coined the #RamonWOW effect.
"Ramon's passion for digital marketing and fanatic focus on the customer experience is well aligned with the core values at Rise Interactive. We are excited to have him on the team and working to help our clients take their social media campaigns to the next level," said Jon Morris, Founder and CEO of Rise Interactive.
Rise welcomes De Leon as its Senior Social Media Strategist. His Social Media strategies have been highlighted at Gravity Summit Harvard and streamed Live on CNN.com. He was named "Chicago Social Media Person of the Year" by the Chicago Social Media Marketing Group in June 2011. De Leon's creative uses of social media have made him a highly sought-after speaker around the world, having spoken at Hubspot's INBOUND in Boston, CMO Asia Summit in China, TechCrunch in Rome and ad:tech in Sydney. You will find him speaking next month at LeWeb in Paris, France.
Click here for a short video of Ramon announcing his arrival at Rise Interactive.
About Rise Interactive

Rise Interactive is a full-service digital marketing agency in Chicago that specializes in digital media and analytics. Founded in 2004, Rise Interactive leverages customized reporting to equip quantitatively-minded individuals with actionable insights. The agency's Interactive Investment Management philosophy ensures that a client's budget is allocated to the most profitable marketing channels. Rise's clients include Careerbuilder.com, Ulta Beauty, DeVry, Reynolds Consumer Products and Allstate Motor Club, among others. For more information, visit http://www.riseinteractive.com or follow the company on Twitter @riseinteractive.
Find More Chicago Pizza Press Releases
Rummaging through a trunk of old clothes in the Grandparent's Attic display, children are trying on the business of being adults. Play is learning at the Bos…